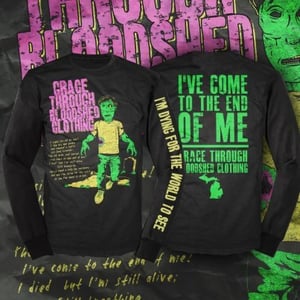 $

2.99
Printed on American Apparel, featuring a full color front, back, and left sleeve print.
Shirt Color: Black
Ink Colors: Electric Green, Yellow, and Pink
*(Inspired by Galatians 2:19-20)
"For through the law I have died to the law, so that I might live for God. I have been crucified with Christ and I no longer live, but Christ lives in me. The life I now live in the body, I live by faith in the Son of God, who loved me and gave Himself for me."
The poetry:
"A sight for all to see!
I dug my own grave and lowered a coffin six feet beneath—
The old man, self-buried—
I've come to the end of me!
I died, but I'm still alive;
Still breathing.
Christ found a body for residency
And now I'm dying for the world to see Him that is in me."
**(.50 cents from every GTBC shirt is donated to Blood: Water Mission to help build clean water wells in Africa.)